Protect yourself and others against indoor secondhand marijuana smoke!
If passed, Assembly Bill (AB 374), would allow marijuana retailers to sell food, non-alcoholic beverages, and tickets to concerts and other events, forcing workers to inhale the toxic chemicals that are emitted by the secondhand smoke. This would roll back certain protections and safety guidelines concerning secondhand smoke in the workplace. As of today (9/25/23), the bill is headed to Governor Newsom for his signature.
Tell Governor Newsom to veto AB 374!
Or contact the Governor by mail at:
Governor Gavin Newsom
1021 O Street, Suite 9000
Sacramento, CA 95814
Phone: (916) 445-2841
Welcome to Smoke-Free San Diego
Smoke-Free San Diego is a project of the Tobacco-Free Coalition of San Diego County, a group of local agencies and community members who fight for smoke-free air and mobilize communities to bring out policy change.
Over the past 20 years much progress has been made to protect San Diego residents and our region's environment from the dangers associated with secondhand smoke, tobacco litter, and illegal tobacco sales.
This website charts the course of San Diego's smoke-free movement and offers resources that promote understanding of state and local policies that keep our community healthy.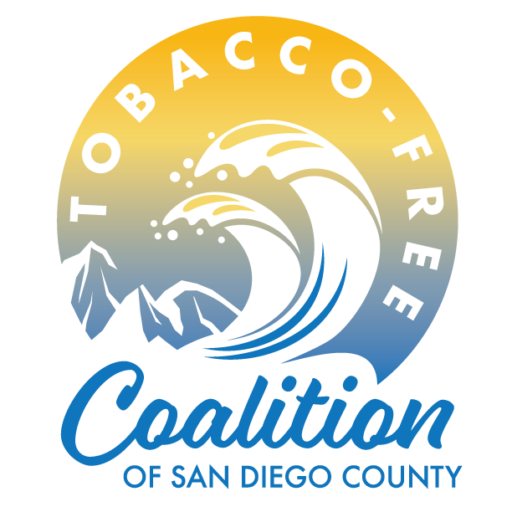 Sign up for a newsletter to get the latest resources and information regarding tobacco prevention efforts.
SAY San Diego's Collective Coalition just launched their Podcast, 'Queering Up Harm Reduction' check it out on Spotify!
Also, subscribe to their Newsletter here and stay up to date on the Collective Coalition's journey to preventing tobacco, alcohol, and other drugs from doing harm to the LGBTQ+ community!

The Vista Community Clinic Tobacco Program also just launched their first electronic newsletter, "Stay Informed". Sign up here to receive the latest tobacco prevention news, local policy updates, upcoming events, training opportunities, and more!
Sign up for a training below!